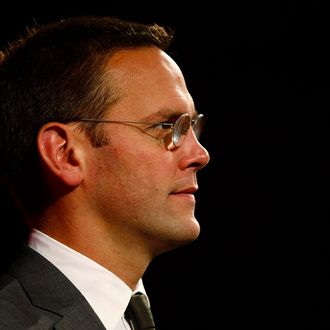 Photo: ? David Moir / Reuters
Although today's report on News Corp. from the British regulator Ofcom found that James Murdoch's management of the phone-hacking mess was "ill-judged," it could not conclude that he "deliberately engaged in any wrongdoing." As a result, the company kept its highly profitable broadcasting license for BSkyB, and it's again safe to start looking ahead at what James, the Murdoch son closest to the hacking, will do at his father's company in the future. Since the scandal peaked, there has been talk of James's fresh start in New York, although no exact role has been nailed down. Now the Financial Times reports it will eventually be with the Fox Networks Group, but not directly on Roger Ailes's turf.
Under the role being discussed between News Corp and Mr Murdoch, Peter Rice, the Los Angeles–based head of News Corp's Fox Networks Group, will report directly to Mr Murdoch, currently the deputy chief operating officer at the company.

Fox Networks includes the national Fox network, as well as cable channels such as FX and National Geographic. It does not include News Corp's Fox News Channel.

Mr Murdoch had pressed for his expanded role to be announced in July, when Mr Rice was promoted to run Fox Networks, according to several people close to the situation. But Rupert Murdoch — his father and News Corp's chairman — and Chase Carey, the company's chief operating officer, resisted.
Sources disagree on whether or not it's a done deal, with one contending that News Corp. "would not consider giving Mr. Murdoch an expanded role until there is a better idea about what will happen in London." Today's decision is a step in the right direction for the company, but there's still plenty of fallout to deal with, and various investigations are ongoing. 
Either way, News Corp. seems to be keeping James away from its Fox News cash cow, but with Ailes, the channel's chief, in negotiations for a new contract, the Murdoch son and once-certain heir creeping somewhat closer is bound to come up.