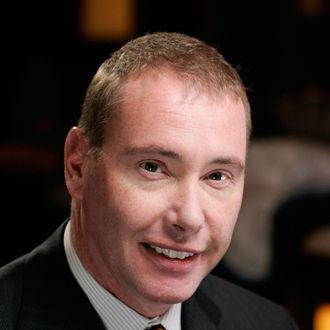 Jeff Gundlach is having the best day ever.
Photo: Jonathan Alcorn/Bloomberg via Getty Images
Jeffrey Gundlach, the bond-trading impresario whose emotions were "raw" after his priceless art collection got jacked in a $10 million heist at his Santa Monica mansion earlier this month, is breathing easier today.
Police recovered all of Gundlach's missing art and arrested two suspects in the burglary, after Gundlach offered a record-breaking $1.7 million reward for information leading to the return of the art. Acting on a tip from an unnamed informant, authorities raided an automobile stereo shop, according to the L.A. Times, and found all but one painting. That one was recovered in a home in Glendale.
Gundlach's Porsche, which was also taken in the heist, is still at large.
It is "not clear" whether Gundlach's tipster will get the reward money in exchange for helping return the art, the LAT says. What is clear is that with his paintings back in his home under the protection of a new squadron of "armed guards," the bond king can now return to his favorite hobbies — doing the New York Times crossword puzzle in ink and shorting Apple — with no worries for his most prized possessions.