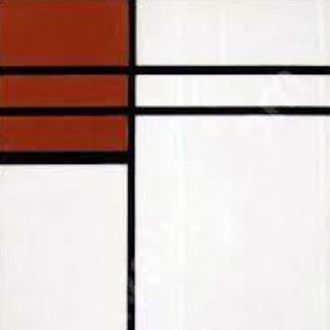 One of the missing pieces.
Photo: Courtesy of Santa Monica Police Department
Jeffrey Gundlach, the star bond investor whose messy firing from his old employer, TCW, resulted in a massive corporate espionage trial last year, wants to make his latest misfortune your good fortune.
In a press conference today, Gundlach announced he's offering $1.7 million in total rewards for information leading to the return of his multi-million-dollar art collection, some of which was stolen from his Santa Monica home in a $10 million heist last week. Among the paintings stolen were a Piet Mondrian original (for which Gundlach is offering a $1 million reward), and a Jasper Johns, and pair of Joseph Cornell paintings (which have another combined $500,000 reward attached).
Why so much money?
Well, unlike most rich guys who collect paintings for the sake of having pretty, expensive things in their houses, Gundlach — who named his new firm, DoubleLine Capital, after a Mondrian piece — is an art obsessive. The conference rooms at DoubleLine's L.A. offices are all named after artists — Van Gogh, Picasso, Warhol, Mondrian. When I visited Gundlach there last year, he sized me up by saying that I seemed like "a Rembrandt guy." (I didn't — and still don't — know whether it was a compliment.)
A person close to Gundlach told us today that the bond king's "emotions are pretty raw right now," and understandably so. If you had risen from glam-rock drummer to the top of the fixed-income world, only to have your art (and Porsche, and "five luxury watches, wine and cash") taken out from under you, you'd be a wreck, too.
So please, art thieves and potential tipsters, do a mitzvah. Stop the pain, and help return the paintings.