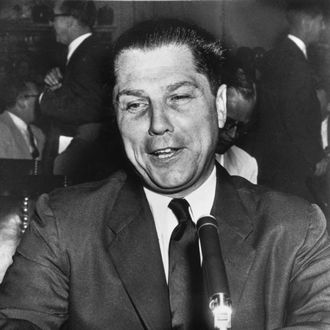 Police in Detroit suburb Roseville will take soil core samples Friday at a home where they believe slain Teamsters boss Jimmy Hoffa's body might have been buried. "We received information from an individual who saw something," Roseville Police Chief James Berlin told the Detroit Free Press. "The information seemed credible, so we decided to follow up on it."

According to Click on Detroit, the tip about Hoffa's mysterious disappearance in 1975 came from a man dying from cancer. "About a month or so ago an individual gave me a call who wanted to talk about a body that he allegedly witnessed being interred here in the city of Roseville approximately 35 years ago," Berlin said. "That led us to where we're at today."
Hoffa served as Teamsters president from 1958 to 1971 and helped grow the union into the single largest in the U.S. He was 62 at the time of his disappearance, last seen outside a restaurant in suburban Detroit, and had recently been released from prison after serving almost five years for fraud and other charges.

Police first followed up on the tip last week when they had the state's Department of Environmental Quality use ground scanning radar technology to search an area under the driveway, where they found "an anomaly," which gave them reason to take the soil sample this Friday that will be examined for remains by a Michigan State University anthropologist, the Free Press reports.
It might be time to spike the Giants Stadium theory.