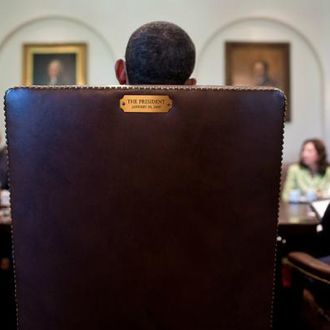 Economists and Wall Street traders will be looking for an extra spring in President Obama's step as he takes the stage at the DNC in Charlotte tonight.
That's because, by tonight, the president will know how many jobs the U.S. economy added in August, a day before the rest of the country. The all-important non-farm payrolls report, which is released on the first Friday of every month, is available to the president the day before, provided he can find a secured line to call in to his economic advisors.
The Wall Street Journal thinks Obama may "tweak his adjectives" depending on the report's contents. But Austan Goolsbee, a former White House economist who once had the pleasure (or burden) of giving Obama the jobs news, told Bloomberg he didn't expect the president to give off a signal.
"My experience is that the president is extremely good at not tipping his hand about what's in the numbers," Goolsbee said. "So anybody who's going to be looking at his speech trying to figure out what's in them, I would say probably going to be disappointed."
Analysts have predicted 138,000 new jobs in tomorrow's report, with an unemployment rate holding steady at 8.3 percent. But that could be a lowball guess. This morning, a private survey conducted by ADP Employer Services — typically seen as a good predictor of the Labor Department's official data — beat expectations handily, showing 201,000 new private-sector jobs created in August, the biggest gain since five months ago.
If the jobs data is, in fact, the good kind of surprise, viewers of tonight's speech can expect a bigger Democratic bump in the polls following the convention's close. But those hoping to get a heads-up tonight should know that President Obama is pretty good at keeping secrets. If the guy can poker-face the killing of Osama bin Laden, he can probably keep some sweaty-palmed traders in the dark for a few more hours.