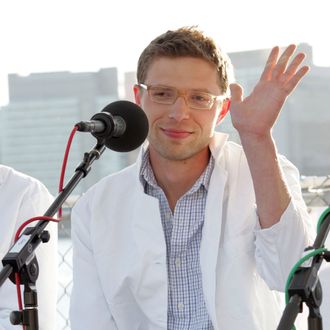 Photo: Thos Robinson/Getty Images
According to a new story in Los Angeles Magazine, pop-science writer Jonah Lehrer is ready to address the self-plagiarism and fabrication scandal that cost him a staff job at The New Yorker and got his best-selling book pulled from shelves, but only on his own terms. "I'm extremely tempted to correct many of the false accusations that have been made about my work in recent weeks," Lehrer told reporter Amy Wallace, ultimately opting not to answer her questions. "I'm writing something about the mistake" — singular — "myself, if only so I can learn from the failing, and I'd prefer not to talk until my writing is done." But he also misled her while insinuating he's been wronged by a bloodthirsty, undiligent media mob.
"When I e-mailed Lehrer … he responded right away," Wallace writes. "Despite the avalanche of coverage, he said, I was only the third person to contact him for comment. (Apparently Lehrer wasn't the only person guilty of laziness. Or was it that a potential response from Lehrer might not jibe with what the commentariat wanted to say?)"
Wallace told Daily Intel that Lehrer wrote back to her on August 23: "Thanks for reaching out," he said, in part. "You are only the third reporter to attempt to contact me directly."
At the very least, his count is off, which is not exactly promising after months of ethically questionable behavior, including accusations of blatant inaccuracies and yanking inquiring reporters around. I e-mailed Lehrer first on his public Gmail address on the morning of June 19, before publishing a post on his repeated repurposing of his own work, and again on July 9 seeking further comment. He didn't respond either time.
Lehrer did apologize for the recycling to the New York Times on June 20. He was then quoted by Tablet on July 30, in a story about the fabricated Bob Dylan quotes in his book Imagine and, later, did an interview with Charles Seife, whose piece was eventually published (without on-the-record quotes) at Slate last month. Assuming no other reporters covering the story reached out to him, that makes Wallace the fifth person, not the third.
"I have no idea how he kept count," said Wallace. "My sense, though, is that he wasn't including [Tablet's] interview in his tally. In other words, my impression was that he was saying I was just the third person to contact him directly AFTER the [Michael] Moynihan piece and its aftermath. But again, I'm surmising … "
I reached out to Lehrer for clarification but haven't heard back.
Update: Two additional reporters have told Daily Intel they unsuccessfully reached out to Lehrer directly for comment following publication of the Tablet article on July 30. In addition to Charles Seife at Slate, that's a minimum of three prior to Wallace, even excluding earlier attempts. Poynter has a few more.