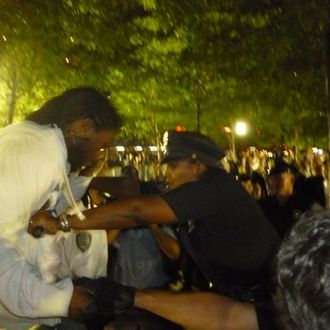 Williams meets officer.
Photo: @jeffrae via twitter
The September 17 one-year anniversary of Occupy Wall Street may not have had the energy or visibility of the movement at its peak last fall, but it did have clashes with the NYPD that were a real throwback. Throughout the day, more than 180 demonstrators were arrested as police somewhat indiscriminately scooped up protesters and journalists on catch-all disorderly conduct charges and even managed a run-in with their favorite target elected official: Brooklyn City Councilman Jumaane Williams, who was handcuffed with force at a 2011 parade, found himself on the wrong end of an NYPD baton last night in Zuccotti Park.
"Have seen #NYPD show restraint," Williams tweeted before the incident. "Have also witnessed some very questionable arrests at #OWS." Then he nearly became one of them. "Just came back to #OWS smaller crowd tensions still high," he wrote a few hours later.
There, he was standing on a bench when an arrest nearby resulted in an officer giving Williams a few shoves for good measure, as photographed above by Jeff Rae. "I told them I was a councilmember observing. Guess they didn't hear me," he said later. The NYCLU said he was "nightsticked in the leg."

In a statement, a spokesperson for Williams said:
Council Member Williams was in Zuccotti Park to observe and ensure that the rights of protesters are being protected, something which he has done at multiple Occupy Wall Street actions without incident. In the midst of a police action involving one protester, two NYPD officers approached the Council Member and pushed him while he tried to explain his purpose at the park. He was neither arrested nor injured during the incident. Council Member Williams will continue to work with the NYPD and protesters to ensure both the protection of First Amendment rights and the safety and security of our city.
But apparently it won't be easy.
In an interview with Gothamist, an anonymous police officer working the demonstrations explained, "We want you to protest, we respect that — that's what this country was founded on. I get that 100 percent. But there are laws, and you have to follow those laws."
"It's frustrating," he added. "We're frustrated." Oh, you, too?