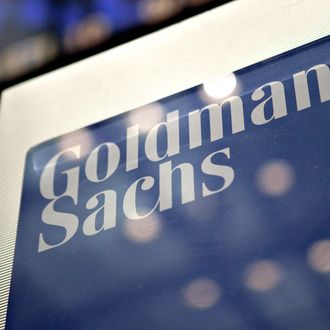 Try leaving this place. Just try it.
Photo: Bloomberg/Getty Images
Most young investment bankers are hired straight out of college, given two-year contracts at their firms, and spend the next 730 days of their lives quietly searching for better gigs.
"Two-and-out," as it's called, is a time-honored Wall Street tradition, a system meant to give new bankers a few years to figure out whether monkeying with Excel spreadsheets is really how they want to spend their lives. It's why, every fall, a group of 24-year-old gunners heads for the greener pastures of business school or the buy side, while a less fortunate group wanders, directionless, onto the streets of midtown.
But Goldman Sachs doesn't like having its cherubic youngsters poached by private equity firms, hedge funds, and HBS. It wants to keep them at 200 West Street, where they belong. So it's eliminating two-year contracts for most junior analysts and treating them like any other new hires.
Goldman Sachs is doing away with two-year contracts and scheduled program-completion bonuses for most entry-level analysts hired out of college, according to communications reviewed by The Wall Street Journal and confirmed by a Goldman spokesman …

The decision comes after Goldman fired a handful of analysts over the past year for signing on to work at other financial companies in violation of their contract, and executives grew frustrated that many graduates weren't staying with the firm after completing the program.
Contacted by Daily Intel, a Goldman spokesman confirmed the changes, which will apply to analysts in the investment banking and investment management divisions.
Not much will change, practically, about working among Goldman's youth when "two-and-out" is no more. If anything, it will make analysts' lives easier, since having no pressure to leave after two years means some won't have to schedule a flood of "doctor's appointments" in order to sneak out to their private equity interviews.
But the end of "program-completion bonuses," and the loss of some of the excitement associated with the sprint to private equity, will weigh on the fragile psyches of young Goldmanites. To them, and to those who came before them, it's the end of an era. Flags at Harvard, Yale, Wharton, Princeton, and every soul-less apartment complex in Battery Park City will presumably be flying at half-mast next fall, when the changes take effect.