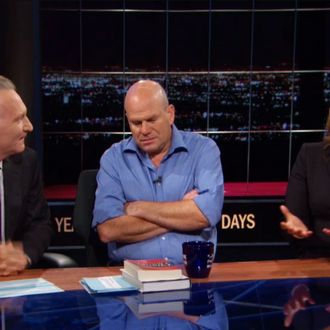 O'Donnell last night.
Photo: HBO
At this point, Christine O'Donnell is a relic of 2010's election season, but Bill Maher has not forgotten her — or the role he played in making her look very silly during her failed run for one of Delaware's Senate seats. Last night, the onetime Tea Party favorite appeared as a guest on Real Time, and Maher apologized for dredging up an old Politically Incorrect video of O'Donnell saying she "dabbled in witchcraft," which caused her no end of trouble. 
"I know when I brought out the witch tape I made your life hell and I'm sorry about that," Maher said on "Real Time with Bill Maher."

"Aw, thank you," O'Donnell said.

Maher added: "I gotta say, I don't agree with your ideas but it shouldn't have hung on that stupid witch thing."
O'Donnell admitted that the matter was a partially "self-inflicted wound," since she chose to add fuel to the fire by making a response ad stating that she was not, in fact, a witch. "There's a balance when you get into politics between knowing when to trust your gut instincts and when to rely on your advisers," she said. "And it really is a delicate balance. I learned the lesson the hard way." Other lessons learned? Don't lie about your education, don't say really dumb things about evolution, don't talk about masturbation on MTV, make sure you know what the First Amendment is, and — for the love of God — no bee costumes.