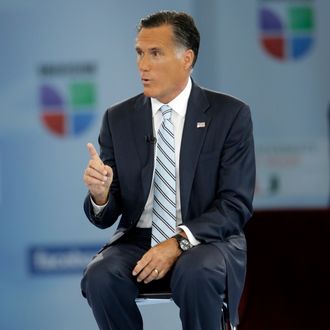 From a viewer's perspective, Mitt Romney's Wednesday Univision appearance seemed to go fairly well, particularly when it came to audience reaction — attendees frequently cheered the candidate's statements, and even booed at some of the moderator's questions. However, as BuzzFeed's McKay Coppins reports, that enthusiasm wasn't exactly organic. Apparently, the Romney campaign threatened to "reschedule" the Q&A session if Univision didn't allow them to pack the seats with activists rather than students, as had originally been agreed. 
After speaking to Univision moderator Maria Elena Salinas, Coppins wrote: 
After exhausting the few conservative groups on campus, the Romney camp realized there weren't enough sympathetic students to fill the stands on their night … In any case, Romney's team was allowed to bus in rowdy activists from around southern Florida in order to fill the extra seats at their town hall.
On top of that, Romney's cheer section ignored instructions to hold their applause.
Additionally, Romney is said to have "thrown a tantrum" backstage following co-anchor Jorge Ramos's introduction of him to the live audience. Apparently, Romney was angry that Ramos mentioned that his agreed-upon interview time would be half that of President Obama's Thursday night forum. Ultimately, the lead-in was re-taped. 
With even Fox News polls showing the Obama-Biden ticket leading Romney-Ryan among Latinos by 30 points, it's no surprise that the the campaign was anxious to get the Univision appearance right — strange, then, that they didn't insist on a better makeup artist.