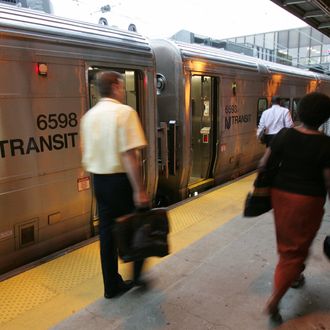 Parents have a new horror story to tell their kids when admonishing them about standing too close to the edge of the train platform. On Monday afternoon two boys, ages 7 and 9, were trying to catch a glimpse of their train as it approached the New Jersey Transit station in Ramsey when police say a stranger put one boy in a headlock, grabbed his brother's shoulder, and tried to throw them onto the tracks. Luckily, he was foiled by the children's mother and grandmother, who promptly tackled him and freed the boys.
"They were really brave," said Ramsey Police Chief Bryan Gurney, according to NBC New York. "They acted really quickly. What they did was thwart something that could have been really, really bad."
A bystander called the police and when they arrived the women were still sitting on the man, who was later identified as David Howard of Wyckoff, New Jersey. Police believe Howard was under the influence, but they have no idea why he targeted the boys. He's been charged with attempted murder, kidnapping, aggravated assault, and aggravated assault of a police officer (for spitting on officers during his arrest), and is being held on $500,000 bail.