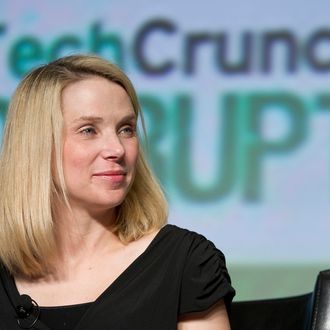 When not prying little Rs off signs around Yahoo's offices, new CEO Marissa Mayer has been considering some actual plans for turning around the beleaguered tech-media conglomerate.
Her options are numerous. She could lay off a bunch of employees, improve Yahoo's web products, or just rename the entire thing "Go0g1€" and hope nobody notices the difference.
But most of those things require money. And today, with the closing of its $7.6 billion sale of half its assets in China's Alibaba Group, Mayer got the cash infusion she was looking for.
Most of the after-tax profits from the Alibaba sale (about $4.5 billion) will be paid out to Yahoo shareholders in the form of dividends or stock buybacks, according to AllThingsD. But that leaves a chunk, about $650 million, for Mayer and her team to play with.
Tech blogs are full of suggestions for what Mayer should do with Yahoo's Chinese cash pile: Buy Path. Buy Twitter. Buy a bunch of small companies nobody's ever heard of and put exclamation points at the ends of their names. Some of these actually might work!
Whatever Mayer decides to do for Yahoo's bottom line, though, we're guessing it won't be as popular with her employees as giving them all iPhone 5s and free food. Geeks, they are so easily bought.