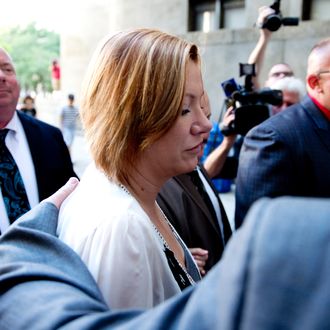 The tabloid saga of Anna Gristina, the suburban mother of four accused of running a Manhattan brothel, came to an end today when she pleaded guilty to one count of promoting prostitution. Though authorities spent five years investigating Gristina and recorded her bragging about the high-end prostitution ring's ties to the FBI, D.A.'s office, and NYPD, the prosecution admitted in court that they couldn't find evidence to back up any of those claims, according to the Daily News. "We are left with a straightforward promoting prostitution case — a defendant who ran a brothel for many years and who profited from the sex trade," said Assistant District Attorney Charles Linehan. "That is all."
Ultimately, Gristina pleaded guilty only to arranging an encounter between two prostitutes and a man who turned out to be an undercover police officer.
According to Reuters, Gristina had initially refused to take a plea because it could mean that she'll be deported back to Scotland. However, had she gone through with a trial, she might have wound up serving seven years in prison. Instead, she's expected to be sentenced to time served (plus five years probation) at her next court date in November, having spent four months at Rikers Island following her arrest in February.
Jaynie Mae Baker, who was accused of running the brothel along with Gristina, took a plea deal last month that allows her to avoid additional jail time as well. Thus, there will be no trial in which the allegedly high-profile names listed in Gristina's little black book are splashed on the cover of every paper in New York. That sound you hear is dozens of "powerful politicians, top-law enforcement, influential lawyers, bankers, entertainment execs and Fortune 500 businessmen" — and possibly John Edwards —  letting out a deep sigh of relief.