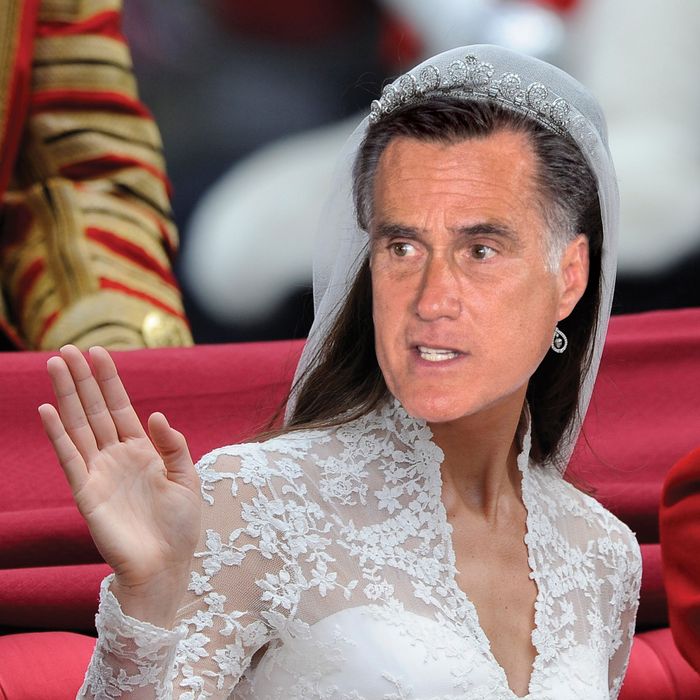 This will haunt your dreams.
Photo: WPA Pool/2011 Getty Images
Part of being a world-famous breast-owning celebrity is that, for the rest of your life, you have to assume that someone is trying to take topless photos of you at all times. Doesn't matter if you're on a private beach, a private balcony, or a private space station floating 200 miles above Earth — privacy does not exist for you like it does for normal people. It's not fair, but it's the way the world is, and any tabloid target who doesn't want her naked body to become public fodder has to behave accordingly. Kate Middleton didn't, for whatever reason, and now her crown jewels are all over the Internet.
Mitt Romney has made a lot of boneheaded mistakes this election season — hell, in just the past couple of weeks — but perhaps the most egregious one was failing to understand that politicians now have to live by the same rules as princesses and pop stars.
While Romney didn't sunbathe nude, thank god, he made essentially the same error as Middleton: assuming that privacy is still a privilege he's able to enjoy. Though the leaking of his remarks at a May 17 fund-raiser attended by GOP loyalists was unlikely, Romney didn't seem to grasp that it was even a possibility when he described half the country as lazy parasites. Setting aside the obvious — that In the Age of Smartphones and YouTube™, politicians will be taped pretty much wherever they go — Romney failed to embrace the lesson of a very famous, very similar precedent.
In 2008, President Obama was also recorded saying something inelegant during what he thought was a private fund-raiser, and his "cling to guns or religion" remark rocked his candidacy. Obama has adapted since then; his campaign now collects phones at the door during some private fund-raisers. But even that isn't an air-tight defense. You don't necessarily need a smartphone to record someone. Cameras and microphones can be hidden pretty much anywhere, by anyone, at any time. The only way to avoid embarrassing leaks is to not say embarrassing things in the first place.
Romney, no newcomer to politics, should have already understood this before yesterday. But because he didn't, he, like Middleton, ending up revealing way more of himself to the world than he ever intended.