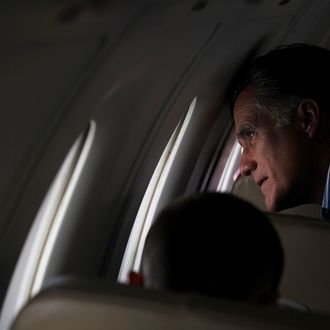 Romney understands why you can't open this window.
Photo: Justin Sullivan/Getty Images
The Internet was tickled silly yesterday when it learned that Mitt Romney lacks an even basic understanding of the airplanes he has flown on probably thousands of times at this point in his 65-year life. It seemed almost unthinkable that a guy as obviously intelligent as Romney would fail to grasp that, because the cabin is pressurized, opening a window, as Patrick Smith of Ask a Pilot put it to the Atlantic's James Fallows, "would be somewhere between extremely inconvenient and catastrophically dangerous." And guess what: It's still unthinkable. Because Romney was joking. 
The Los Angeles Times story that relayed Romney's airplane remark to the world was based off a pool report written by the New York Times
's Ashley Parker. When we asked Parker this morning whether it seemed as if Romney made the mark in jest, she left no doubt. "Romney was joking," she e-mailed. Parker told us that while the pool report didn't explicitly indicate that Romney was joking, it was self-evident that he was. "The pool report provided the full transcript of his comments on Ann's plane scare," she said, "and it was clear from the context that he was not being serious."
The Blaze hears the same thing from William Everitt, who attended the Saturday night Beverly Hills fund-raiser where the remark happened:
"Basically he was retelling the story and when he said 'I don't know why they don't have roll down windows on airplanes,' he looked at the audience and everyone laughed," Everitt told TheBlaze. "It was a clearly delivered joke … There were 1,000 people there that will tell you the same thing."
So, let this be a lesson to us all: When a gaffe seems too good to be true, it probably is.