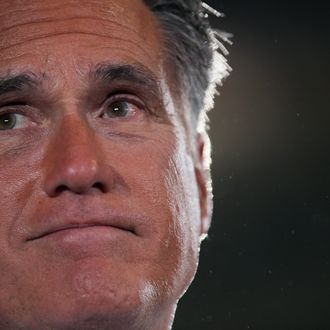 Photo: Joe Raedle/2012 Getty Images
Mitt Romney filed his 2011 taxes with the IRS today and, in keeping with his general spirit of transparency, is releasing his return in full, in addition to a 20-year "summary" of his tax rates, for public perusal. Among the data is that the jobless Romneys earned $13,696,951 last year and paid an effective tax rate of 14.1 percent, totaling $1,935,708. Almost 30 percent of that income, or $4,020,772, was donated to charity, but interestingly enough, the Romneys didn't deduct as much as they could have. As the campaign explains, "The Romneys thus limited their deduction of charitable contributions to conform to the Governor's statement in August, based upon the January estimate of income, that he paid at least 13% in income taxes in each of the last 10 years." Earlier this year, Romney said only a fool, and certainly not a presidential candidate, would pay more than he had to.
"You'll see my income, how much taxes I've paid, how much I've paid to charity," Romney promised in a January debate. "I pay all the taxes that are legally required and not a dollar more. I don't think you want someone as the candidate for president who pays more taxes than he owes." Voters, Romney added later, expect candidates to pay "only what the tax code requires."
So there you have it: By conforming to one of his previous statements instead of the other, Romney is, by his own standards, not cut out for the job he's been chasing.