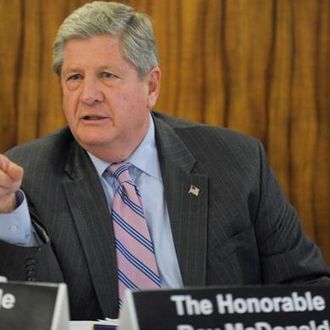 Roy McDonald.
Photo: Courtesy of New York State Senate
Four Republican New York state senators bucked their party and knowingly put their political careers in danger to push gay marriage legislation over the top in July of 2011: Mark Grisanti, Jim Alesi, Roy McDonald, and Stephen Saland. Alesi didn't seek reelection. Grisanti won his primary race easily. But McDonald and Saland both faced tough challenges from the right, and their races were too close to call on primary night without counting absentee ballots. Finally, this afternoon, Saland emerged victorious. Things aren't going so well for McDonald.
Though McDonald has not conceded, the Times Union reports that he's down "by 113 votes with 50 ballots set aside," so the writing is on the wall. However, McDonald has one last hope. Though it looks like he won't get the GOP nomination, he has already secured a spot on the ballot as the nominee of the Independence Party. Maybe he could he pull enough appreciative Democratic voters away from the actual Democratic nominee and combine them with pro-gay Republicans to form a winning bipartisan coalition. It seems like a long shot, but it becomes less of a long shot if Governor Cuomo decides to lend McDonald the full weight of his stratospheric popularity.