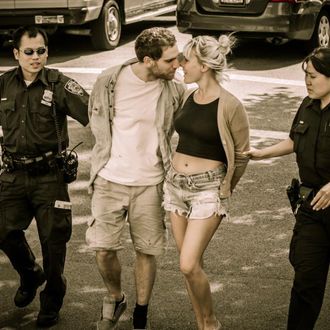 Last week, Brooklyn photographer Mo Gelber chipped away at the ice block that is New York's collective heart with a candid snapshot of a dirty-looking, handcuffed couple sneaking a kiss while being hauled in by police. Gelber called the photo Last Kiss and entered it into a contest hosted by Canon and director Ron Howard, but he needed the permission of all four people pictured before advancing to the next round. It didn't work out for Gelber the way he planned, but the spread of the summer-lust shot online, powered along by a tidal wave of positive vibes, not only landed him on TV but also got his hobby photography noticed.
"The whole reason I entered the contest was to get some recognition and hopefully get a job for a newspaper," the 42-year-old told Daily Intel last night, fresh off his first assignment for the Daily News. "I can't even keep up with the attention anymore."
Gelber's rapid ascent started when a Facebook manhunt located his Bonnie and Clyde, with the woman, Alexis Creque, explaining that her boyfriend was collared for graffiti ("I was just the lookout") and that he was still in jail. The story was covered in the Daily News, along with the Huffington Post, the local news, and just about every other website imaginable. "I don't really have a big ego, but I had to Google myself," said Gelber, a part-time audio systems engineer.
Gelber went so far as to receive official permission from the NYPD to move forward with the photo, which also stars two cops, but minutes before the contest deadline for consent, the couple's lawyer decided it wasn't in their best interest to be featured. "We almost got it done," Gelber said. "But I don't hold it against them at all. We're strangers, they don't owe me anything. If it were me, I probably wouldn't have signed the release."
Instead, he filmed an appearance on Inside Edition and watched even foreign fans flock to his Facebook page. "I just hope that it leads to a good job or paid work," Gelber said. He got his start yesterday, in another bit of serendipity, when he stopped by the Daily News office to meet with an editor there about potential work.
"I walked into the room, and I had the camera hanging off my neck because I'm always ready. If the camera's in my bag, it doesn't do me any good," he explained. "While I was standing there, a reporter and a bureau chief were discussing a story, and the photographer that was supposed to meet them wasn't able to make it. They couldn't find any of their staff photographers, and all of a sudden all the eyes in the room turned to me. They look at me, and I said, 'I'll do it!'" Gelber's shot of a candy-store security guard is in the paper today.
And Last Kiss, he said, "is for sale," but he's holding out for a lump sum. "I could use the money."