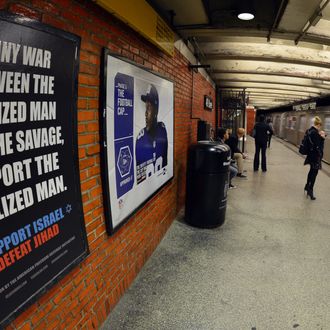 Photo: Timothy A. Clary/AFP/Getty Images
Earlier this month, a judge ruled that the MTA couldn't refuse to post the controversial "Support Israel. Defeat Jihad" ad on the grounds that it includes "demeaning" language. At a meeting on Thursday, the agency settled for new rules prohibiting ads that it "reasonably foresees would imminently incite or provoke violence or other immediate breach of the peace" — like say, scuffles with spray paint-wielding activists. NY1 reports that a disclaimer will also be required on all ads with political, religious, or moral content to make it clear that the MTA doesn't necessarily agree with whatever potentially offensive messages groups want to post in the subway.
According to the New York Times, the MTA says it believes the new guidelines, which board members passed in a 8–0 vote, adhere to the court's ruling. Going forward, "viewpoint" ads must include the phrase, "This is a paid advertisement sponsored by [Sponsor]. The display of this advertisement does not imply MTA's endorsement of any views expressed." The MTA left some room for future controversy by failing to explain how it will determine which ads might incite violence.
For the time being, the MTA is still dealing with the fallout from the current campaign. Though the ten ads were instantly defaced, several people showed up to protest when the meeting was opened up to comments from the public. Demonstrators who oppose the ads held signs with messages like "The subway belongs to the 99 percent," and repeatedly shouted down Pamela Geller, who leads the group behind the ads. She insisted that while many believe that the ad implies Muslims are "savages," it's actually about "systemic institutionalized anti-Israel bias." "This is not against Muslims. I love Muslims," Geller said.