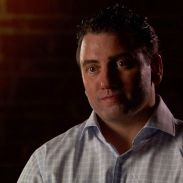 The author in disguise. He could have used a moustache and a fake scar.
Photo: CBS News
Disguised by makeup and voice altered, the author of the controversial book No Easy Day, which provides an inside account of the killing of Osama bin Laden, sat down with CBS News' Scott Pelley to discuss the material that the Pentagon alleges contains confidential information. In a clip released by CBS, author Mark Owen (actually Matt Bissonnette) said that the mission was not a "kill-only" mission, but that SEAL members were ordered to "kill or capture" bin Laden. Asked to describe his thoughts when his helicopter was about to crash-land near the Pakistani compound, Bissonnette said matter-of-factly: "'This is going to suck.' You know? 'Hey, wow.'"

Bissonnette's statement about the team's marching orders is consistent with what White House counterterrorism adviser John Brennan said immediately after the mission. "We certainly were planning for the [possibility of capturing bin Laden], which we thought was going to be remote," Brennan said in May 2011. "If we had the opportunity to take him alive we would have done that." The full interview airs Sunday on 60 Minutes.

Rear Admiral Sean Pybus, head of the Naval Special Warfare Command, wrote in a letter to his force Tuesday that "hawking details about a mission" puts "the force and their families at risk," according to the AP. He added that he was "disappointed, embarrassed and concerned" over the disclosure of confidential information and said, "We do NOT advertise the nature of our work, NOR do we seek recognition for our actions."
The Pentagon is concerned about Bissonnette's discussion of how SEALs units organize, train, and operate, not only the details of the bin Laden mission, an unidentified U.S. official told CNN. "Does this compromise national security today, probably not, but do we talk about this stuff, no."
Pentagon/Department of Defense press secretary George Little told reporters Tuesday that the Pentagon is still reviewing what legal options should be taken against Bissonnette. Pentagon attorney Jeh Johnson said previously that Bissonnette flouted pre-publication protocols and non-disclosure agreements he had agreed to while enlisted. The book has been on top of Amazon's bestseller list for two weeks now thanks to pre-orders. Meanwhile, Bissonnette remains on top of a special ops veterans' list rhyming with "fit."