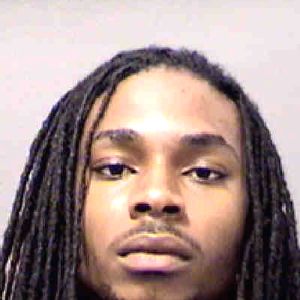 Donte Jamar Sims' mug shot.
If the allegations against 21-year-old Donte Jamar Sims are true, he made himself a poor representative of two groups — North Carolinians and stoners — when he threatened to assassinate President Obama in a series of Tweets. The account caught the attention of the Secret Service when the message "Ima hit president Obama with that Lee Harvey Oswald swag," was posted early Monday morning, followed by, "The Secret Service is gonna be defenseless once I aim the Assault Rifle at Barack's Forehead." According to the Smoking Gun, when agents showed up at Sims's home in Charlotte on Wednesday, he admitted that he made the comments because he "hated President Obama," but Tweeting while high on marijuana was also a factor.
A Secret Service agent noted in an affidavit that Sims smiled as he read his five Tweets aloud (which may be explained by this message posted shortly before they arrived: "Smoking a L as I wait on my Chinese Food"). He suddenly changed his tune at the police precinct, where he "asserted that he was sorry he sent the messages threatening to kill the President of the United States and provided … a written apology."
It doesn't appear that the president was ever in danger, as agents didn't find any weapons in Sims's possession. CNN reports that Sims has several other outstanding warrants and is currently in custody awaiting a September 11 hearing. If convicted of threatening the president, he could be sentenced to five years in prison and a $250,000 fine.