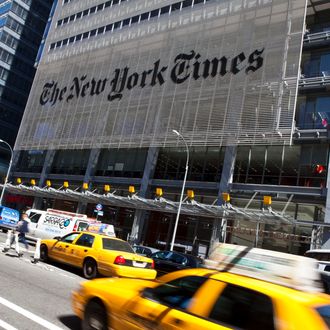 Joining the Harvard Crimson and National Journal, the New York Times has enacted a new policy banning reporters from allowing sources to edit quotes after the fact in exchange for interview access. The process of quote approval, an increasingly common quid pro quo among Wall Street and political elites, was revealed by the Times itself back in July, and was roundly rebuked by journalism's keepers in the months since, including by the paper's new public editor Margaret Sullivan and media columnist David Carr just this week. "The practice risks giving readers a mistaken impression that we are ceding too much control over a story to our sources," said Times executive editor Jill Abramson in a memo today. "So starting now, we want to draw a clear line on this."
Now, as Sullivan reports, "Citing Times policy, reporters should say no if a source demands, as a condition of an interview, that quotes be submitted afterward to the source or a press aide to review, approve or edit," according to the memo, which can be read in full here.
Abramson said she's aware "we'll lose interviews" over this, because top figures may see not having final say over their quotes "as too risky," but noted that "anodyne or generic quotes that are scrubbed or changed don't add anything" to articles anyway.
"The practice is so ingrained," Abramson said, but when the Times makes a step, it's likely that others will, and can, follow. Buzzfeed editor Ben Smith, in reaction to the new rule, tweeted, "Times will make it a lot easier for the rest of us to push back too. Thanks @nytimes!"