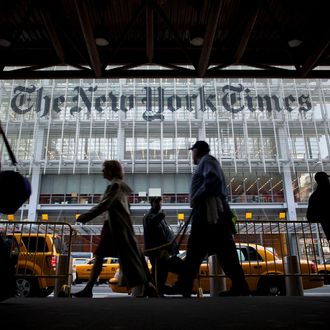 Photo: Bloomberg/2011 Bloomberg
Back in July, the New York Times ran a piece on the increased willingness of journalists at major news organizations to allow campaigns to review — and, often, veto — quotations in exchange for access to their sources. (The topic got some additional attention last week, when Vanity Fair editor Graydon Carter admitted that the White House had the final say when it came to what Michael Lewis was allowed to include in his much-discussed profile of President Obama.) Today, in his "Media Equation" column for the paper, David Carr pointed out that the practice of quotation approval is not limited to political reporting. "In an anecdotal survey of 20 reporters, it was clear that on Wall Street, in Silicon Valley and at some of the big media companies I cover, subjects of coverage are asking for, and sometimes receiving, the kind of consideration that would have been unthinkable 20 years ago," he wrote. 
While Carr went on to acknowledge that sources often have a "legitimate" fear of being subjected to the "routine distortions" that have become a prominent feature of today's media landscape, he warned against "giving away our right to ask a simple question and expect a simple answer, one that can't be taken back." 
The Times itself does not currently have a stated policy on quotation approval, but that's going to change soon. The paper's associate managing editor for standards, Philip B. Corbett, said they will issue "guidelines and best practices" for its reporters sometime in the next couple weeks. While he said the paper does "want reporters to push back much more aggressively," he added that the process of gaining access is "not black and white" and that agreeing to certain conditions is often "part of getting a source to talk." 
Meanwhile, the Times' public editor, Margaret Sullivan, thinks there should at least be a clear ban against "extreme version" of the practice, where "a reporter must send a written version of a quotation to a source or his press representation for approval." She added that, were all news organizations to adopt such a policy, the risk of losing access to newsmakers would be greatly diminished. After all, if all members of the media presented their sources with the same rules, they'd either have to comply or lose their opportunity to get their message across.