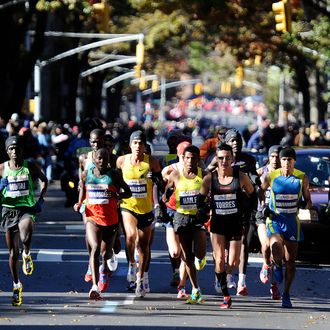 Elite runners who don't really have to worry about crowding at the finish.
Photo: EMMANUEL DUNAND/2010 AFP
The New York City Marathon's organizer has decided to reverse a policy that would have eliminated a service bringing runners' bags with clean clothing from the race's Staten Island start to the finish line at Central Park, the Times reports. It's great news for the sweaty participants who voiced their displeasure on a 1,500-signee petition to New York Road Runners (NYRR), which had announced the no-bag plan to ease massive congestion at the finish area. NYRR also announced a wrinkle in its new plan for the November 4 race, adding an "early-exit" option (not to the race itself!) for those who decline bag transport; those runners will get a poncho and a long-sleeve T-shirt at the finish line and will gain quicker access to the family reunion area in Central Park. Runners remain solely responsible for protecting their nipples from 26 miles of chafing.