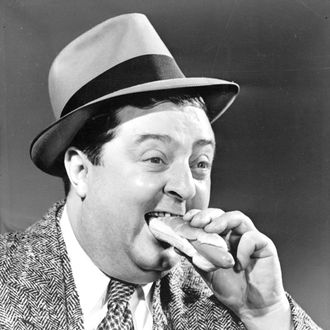 Artist's rendering of the incident.
Photo: General Photographic Agency/Getty Images
The NYPD has been caught up in a number of scandals recently, and the latest is a doozy. The Post reports that while Police Commissioner Ray Kelly was marching in Brooklyn's West Indian Day Parade (which later turned violent) on Labor Day, officers were holding a secret, unsanctioned cookout on the roof of the police headquarters. The event lasted for several hours, and disturbingly it seems officers weren't content to down just one illicit hot dog. "Many brought food inside and then came out for second helpings," reports the paper.
Police initially denied that they'd fired up two charcoal grills, then tried to hide the evidence from prying reporters. It appears that the festivities violated the city's fire code, yet despite their best efforts, the Post has yet to raise anyone's anger over the incident. Police spokesman Paul Browne said officers are allowed to use grills at the site, and an FDNY spokesman said that while they weren't contacted beforehand, "Doesn't sound like any rules were broken." Even the uninvited "lowly uniformed cops" have failed to lodge complaints, though the paper notes that during the party they were stuck in the building, "where the aroma had wafted inside."
Unfortunately, it seems that this fall the Post will be forced to settle for covering the ongoing controversies over stop-and-frisk, Muslim surveillance, ticket fixing, and the use of excessive force rather than hamburger-gate.