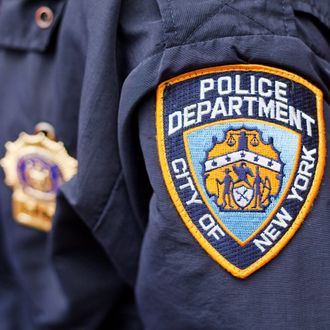 Almost nothing went as planned last night during an early morning robbery in the Bronx that left one dead, probably at the hands of the NYPD. Three masked gunmen made their way into a bodega around 2 a.m., the Daily News reports, but as the owner and his nephew attempted to escape, the cops fired in the confusion. "The owner opened the door and came out with his hands up. He said, 'They're robbing me. They're robbing me,'" according to a witness. "The co-worker, he didn't say nothing and didn't put his hands up. He just came out running. They thought he was one of the robbers, but he just worked there and they shot him." That was far from the end.
The unarmed 20-year-old died later at the hospital, and the NYPD has yet to comment on the shooting, which is under investigation.
Around the same time, an officer responding to the scene crashed with a Range Rover about a mile away, totaling his police cruiser, and had to be removed from the car. The driver of the SUV was treated and released, NBC reports, while the officer remains hospitalized.
Back at the bodega, police engaged in a standoff for over three hours with the original gunmen, the causes of this entire mess, who were not arrested until around 5 a.m.
Update: The victim has been identified as Reynaldo Cuevas. The New York Times has a report of the NYPD's account, as told by Deputy Commissioner Paul Browne, who called the shooting an "accidental discharge":
The bodega manager emerged first, exiting without incident to safety. As he did, Mr. Browne said, the man made gestures indicating that a man inside the store was armed. A moment later, Mr. Browne said, Mr. Cuevas emerged, moving quickly with his head lowered, almost as if he feared he might be followed by shots fired from inside.

He ran into an officer and "they became entangled," Mr. Browne said. At that point, he added, "a round goes off."

Mr. Cuevas fell to the sidewalk, Mr. Browne said, adding that the officer was partly knocked down.

"We believe it was an accidental discharge," Mr. Browne said.
"The tragedy here, of course, is that Mr. Cuevas was shot," said Commissioner Ray Kelly, "but I see nothing wrong with the procedure."
Update 2: Security footage from two angles, obtained by the Times, shows an officer holding his weapon outside of the store and colliding with Cuevas, although it's difficult to tell exactly what happened or when the fatal shot was fired.