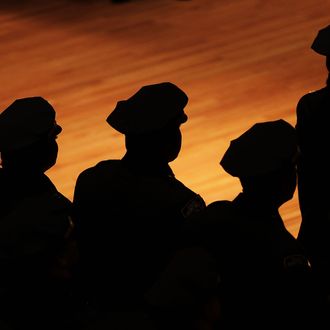 Photo: Spencer Platt/Getty Images2012 Getty Images
Even people who don't live anywhere near New York are getting an opportunity to experience the NYPD's controversial policing practices. The department has had a handful of officers stationed abroad for some time now, and Al-Monitor reports that it's "opened a local branch" in Israel. That description may be a bit generous, as it appears that the branch currently consists of a single officer.
As part of the NYPD's counterterrorism efforts, officers have been stationed in various locations including London, Lyons, Hanburg, Toronto, and Tel Aviv. Last year Mordecai Dzikansk, an NYPD detective working in Israel, explained that his role was to learn from foreign authorities and situations that arise overseas. "I was there to ask the New York question," Dzikansky said. "Why this location? Was there something unique that the bomber had done? Was there any pre-notification. Was there a security lapse?"
According to the new report, former Israeli and veteran NYPD detective Charlie Ben-Naim was already working in Israel, but it was recently decided that he'd stop working out of the U.S. embassy and move into an office in the Sharon District police headquarters in Kfar Saba. NYPD signs hang around the office, including one that reads, "New York Police Department, the best police department in the world." It's nice to have some hometown pride, but it's probably not a good idea to antagonize foreign authorities, particularly when you're running your operation from inside their building.