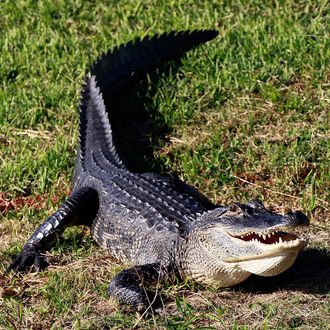 One man's nightmare is another man's house pet.
Photo: Sam Greenwood/2010 Getty Images
Police uncovered a veritable animal house in Brooklyn Friday, when a raid of an apartment in a Crown Heights housing project turned up five pythons, a boa constrictor, two alligators, two bearded dragons, a gecko, a scorpion, and a tarantula. Residents of the building seemed surprised by findings, though several pointed out that they'd long been bothered by the three unruly pitbulls the unidentified menagerie owners had more openly kept in the place. 

However, having been made aware of the more exotic creatures in his midst, one neighbor told DNAinfo, "That tarantula scares me more than anything." (We'd have gone with the bearded dragons, but that's us.) Either way, as another neighbor put it, the collection is "straight weird." He added that the people living in the unit had previously turned away maintenance workers looking to fix some leaky pipes and observed, "Now it all makes sense." Especially for the alligators.