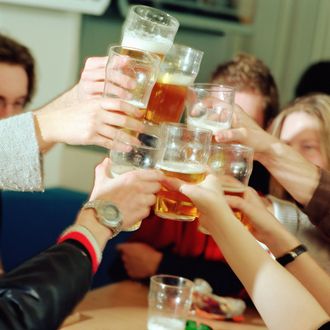 Photo: Image Source/Corbis
A New York Times story today titled "Last Call for College Bars" is just about the most Times-y story ever, explaining the effect of social media on the trashy binge-drinking scene. It begins with "four sorority sisters, all Cornell University seniors," who are "slurping blue-hued vodka through neon-colored straws from a fishbowl":
>
After all, cool is irrelevant when you have arrived at a bar at the insanely early hour of just after 9 p.m. on a Wednesday, in the company of a fraternity "most of us wouldn't go to a mixer with," said Michelle Guida, 21, fiddling with her orange Hermès bracelet and gathering three straws to drink from simultaneously. "But it's their bar tab," said Vanessa Gilen, also 21, who did not look up from her iPhone as she sipped and texted furiously.
But no one by those names goes to Cornell.
But no one by those names goes to Cornell.
IvyGate points out that Guida, Gilen, and another quoted "Cornell senior" supposedly named Tracy O'Hara all fail to show up in the school's online student directory.
A photo accompanying the story, taken on another night, features three more Cornell students — John Montana, David Lieberman, and Ben Johnson — all of whom seem to not exist. "The three students, referred to as 'Cornell seniors' in the photo caption, are identified by false names and are in fact members of the Class of 2014," the Cornell Daily Sun claims.
The Times reporter, freelancer Courtney Rubin, told Daily Intel "honestly, of all the reactions to the piece I expected, that wasn't it."
"Short of asking people for ID, you [assume] that when people give you a name, they represent themselves as who they are or say 'I don't want to be quoted,'" a "shocked" and "gob-smacked" Rubin told the Sun. "If I asked them for IDs, they probably would've given me fake IDs … I assume they gave me the names on their fake IDs."
Social media aside, Rubin may have gotten to a larger truth about college drinking: Almost everyone is underage. "These days text messaging, Facebook and Foursquare make it possible to see if a bar is worth the trip (translation: who is there) without leaving the dorm," she writes. Facebook might've also been a helpful fact-checking tool in this case.
"Obviously I can't explain why they wouldn't just decline to give me names in the first place — or decline to be interviewed full stop — but I certainly didn't make them up," Rubin assured IvyGate. She told Intel she was in touch with her editors last night at the first sign of funny business, but as of yet, the article still includes the names. "There will be a correction forthcoming," Rubin said. "I'm gathering the info for it now."
Update: The Times has attached an editors' note to the article reading, in part: