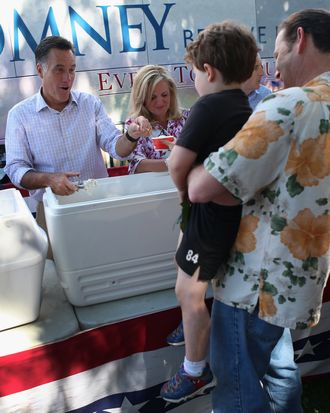 Republican Presidential candidate, former Massachusetts Governor Mitt Romney and his wife Ann Romney scoop ice cream for people during a campaign event at the Milford Ice Cream Social on June 15, 2012 in Milford, New Hampshire. Mr. Romney is starting a five day swing through battle ground states as he battles President Barack Obama for votes.
Photo: Joe Raedle/Getty Images
According to their newly released expense reports, Obama's people spent $20,000 on Apple products in August, while Romney's folks spent $50,000 on the silver stuff during the same period. Both campaigns also shelled out for ice cream while traveling through Ohio — these are August expense reports, after all — though Romney more so: While Obama spent $360 at Toft's Dairy in Sandusky, Romney paid $5,790 to rent out Tom's Ice Cream Bowl for his ice cream social in Zanesville. And finally, the Romney campaign spent $313 at Chick-fil-A, back when that still meant something.