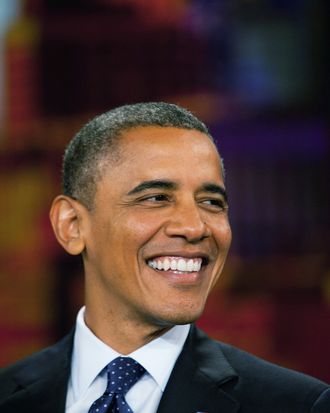 U.S. President Barack Obama smiles while on the set of The View on ABC-TV September 24, 2012 in New York City. Obama is in New York to attend the United Nations General Assembly.
Photo: Allan Tannenbaum-Pool/Getty Images
The source of Barack Obama's muff on a line suggesting the U.S. outsources jobs was Mitt Romney, according to Obama. Speaking before crowd in Ohio Wednesday night, where the president has begun to pull away, he said, "I want to see us export more jobs." Reuters reports that he quickly caught himself and corrected, "Export more products." And then he just went for it. "Excuse me. I was channeling my opponent there for a second." The mood sure is nice up ahead.