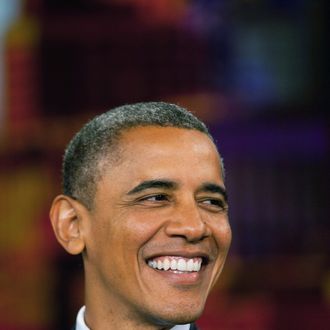 Photo: Allan Tannenbaum-Pool/Getty Images
The latest polls from the biggest swing states in the nation spell trouble for Mitt Romney, who trails President Obama by nine points in must-win Florida and ten points in Ohio, according to the latest Quinnipiac University/New York Times/CBS News findings. In Pennsylvania, Obama's lead is twelve, and the widening gap in all three states makes Romney's path to 270 electoral votes a very tough road as voters skew toward the president on an array of issues. Yesterday, Romney political director Rich Beeson told reporters, "The public polls are what they are." And although the campaign insists their internal numbers are tighter, what they are right now are nothing but bad news.
The Times lists all of the ways in which Obama is stretching his advantage in the key states:
Mr. Romney's lead among older Americans has shifted toward an advantage for Mr. Obama; his competitiveness with Mr. Obama on who would better handle the economy has dipped into slightly negative territory; more view Mr. Romney unfavorably than favorably — the opposite is true for the president — and majorities say Mr. Romney does not care about the problems of people like them.
There's also an enthusiasm gap: In Ohio, 51 percent of voters said they strongly favor Romney over Obama, and 48 percent said they support him with some reservations. For Obama, 75 percent of voters strongly favor him, and just 33 percent have reservations.
Both candidates are in the state on Wednesday, while Republicans try to figure out what Romney's problem is there. "Why is Mitt Romney running for president and what will his presidency be about?" one official asked CNN, while a GOP strategist called Obama's positive perception from the auto bailout "a kick in the balls" for Romney. "Romney needs a PR person," one Ohio State student suggested. The New Republic has six more theories about Obama's Ohio magic.
Nationally there are issues for Romney as well. In a new Bloomberg poll, despite 53 percent of Americans disapproving of Obama's handling of the economy, the president still leads among likely voters 49 percent to 43 percent.
And while no Republican has won the White House without Ohio, Florida is the real problem for Romney, whose paths to victory without it would have to include stealing a traditionally Democratic state. Since the convention, a variety of polling has been with Obama, with a recent Washington Post survey giving Obama leads on Medicare, the deficit, the middle class, taxes, and the economy.
"Every day of the campaign that goes by that the unemployment rate, the deficit and the size of government isn't talked about is a day lost for the Romney campaign," said Romney's Florida co-chairman Justin Sayfie. "I hope we can figure out new and different ways to talk about these issues." But with 41 days until the election, time is running out.