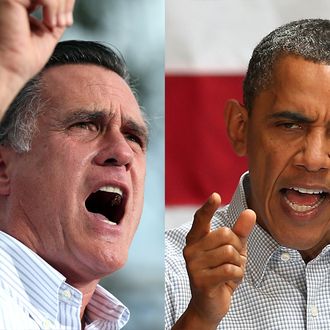 Barack Obama's reelection campaign poured some cold water on the Romney-Ryan ticket early Monday morning with unexpected news that Obama (and combined committees) raised over $114 million in August to the Romney campaign's $111.6 million. "Our grassroots campaign outraised the Romney campaign in August — the first time we've done so since April." The Times reported that the Obama campaign had expected to remain competitive with Romney in August. The numbers reveal that Obama's self-proclaimed "grassroots" campaign did it bit by bit, not wad by wad.

Obama campaign manager Jim Messina said in a statement obtained by Buzzfeed:

The key to fighting back against the special interests writing limitless checks to support Mitt Romney is growing our donor base, and we did substantially in the month of August. Fueled by contributions from more than 1.1 million Americans donating an average of $58 — more than 317,000 who had never contributed to the campaign before — we raised a total of more than $114 million. That is a critical downpayment on the organization we are building across the country — the largest grassroots campaign in history.
According to Obama's campaign-managed Twitter account, 97.77 percent of August donations were $250 or less, for an average of $58.31. By comparison, Republicans raised about $34.6 million in donations of less than $250, about a third of its total, reports the Times. The figures do not include a percentage of Romney's $250-or-under donations.
Despite the large haul for Romney's campaign, it actually spent more in August than it took in, writing checks for more than $129 million. Buzzfeed reports that, "Campaign officials did not comment on what was responsible for the $129 million in spending in August." That is enough money to pull an Oprah and give every one of the convention delegates a car, but we probably would have heard something about that.