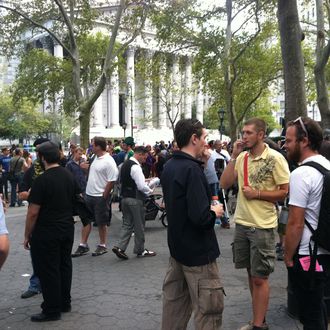 Occupy Wall Street activists trickled into their old home in and around Zuccotti Park Sunday, where they capped off an afternoon of relatively tame celebration and looked ahead to a dramatic one-year anniversary sit-in at the New York Stock Exchange in the morning. Rosh Hashanah services in Zuccotti followed an afternoon in Foley Square, where members of Das Racist, Sonic Youth, Rage Against the Machine, and the Dead Kennedys performed as several hundred activists and fans enjoyed the free fun.
Sunday saw Occupiers mostly avoid trouble with the police, though the arrests that were made might prove crucial. One common worry among activists I canvassed on the eve of their movement's birthday was that key organizers continued to be targeted for arrest by the NYPD, potentially kneecapping Monday's protest.
"Please don't go to jail tonight, we need you in the streets [tomorrow]," one activist yelled through the People's Mic (comprised of the collective voices of everyone in the vicinity) in Zuccotti Park around 9 p.m.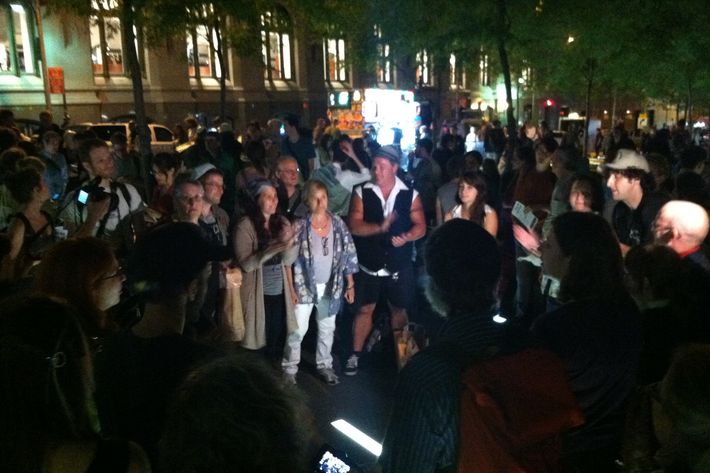 Aaron Black, an Occupy organizer who, despite alienating many activists in recent days remains influential in the movement, was scooped up by the police when protesters first arrived at Foley early in the day. Some said as many as ten key leaders were gone.
"I'm concerned that there's a targeting of organizers," said Harry Waisbren, a seasoned Occupy Wall Street activist who was active in the movement in Wisconsin. "All the surveillance and infiltration, they [NYPD] are probably very aware of who the on-the-ground, direct-action, most influential members of the movement are, and they are extra-legally removing them in hopes that they might prevent this from getting off the ground again."
Whether a few key arrests can slow things down or not, there will be at least some mayhem in the financial district, as Occupiers — many of whom will apparently be wearing business attire to fit in — plan to join hands and sit down at key intersections at 7:30 a.m. Then comes "Storm Wall Street," or "an ecologically themed convergence for a sustainable future," where activists will descend on Bowling Green around 10.
Some fretted about reports that police checkpoints would be set up and that subway lines might be shut down (as they were when Zuccotti Park was evicted in November). But as the music and dancing echoed in the park late Sunday, spirits were high. Occupy was loud, vibrant, and for one more night at least, hopeful.
"I miss home," said Loren Hart, a 34-year-old activist who moved to New York from North Carolina last October to support Occupy. "I don't know how much longer I'm gonna be here, but for right now, this definitely feels like the place to be."