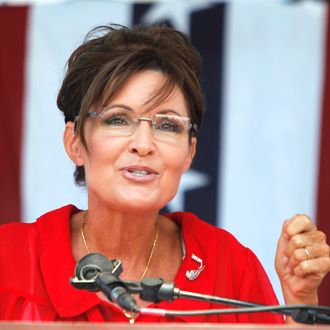 Sarah Palin, former Governor of Alaska and 2008 Republican Vice Presidential candidate speaks at a "Patriots in the Park" Tea Party rally at the Wayne County Fairgrounds July 14, 2012 in Belleville, Michigan. The event was sponsored by Americans for Prosperity: Michigan and the Willow Run Tea Party Caucus.
Photo: Bill Pugliano/Getty Images
In a statement to the Weekly Standard, Palin suggested the 2012 Republican ticket adopt her signature 2008 strategy. Sure, it turns out it's not a great way to win an election, but who cares about doing that, anyway?