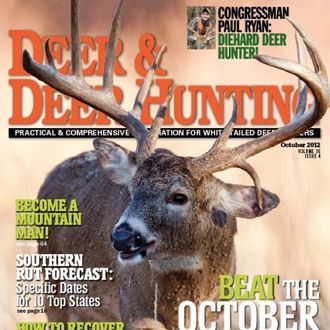 Republican vice presidential candidate Paul Ryan went the man's man route for his Secret Service nickname, GQ reports, and will be known henceforth as "Bowhunter" for his love of shooting animals, and also probably some political metaphor. Ryan's wife Janna went with the decidedly softer "Buttercup," joining Mitt Romney's "Javelin" and Barack Obama's "Renegade." Only Ryan, though, is cross-branding: He also appears on the cover of the latest issue of Deer and Deer Hunting magazine, billed second (see the upper right corner) only to an actual deer.
"I started with rabbits, ducks and pheasant before getting into deer hunting. I worked mowing lawns when I was a kid to save money to buy a shotgun and bought a Browning BPS 20-gauge for pheasants," Ryan told the magazine. "I still have it." But "Shotgun Hunter" doesn't have the same ring to it (and "Deer Hunter" gets complicated).
"Studying the strategy, preparing food plots, the strategy of where a dominant buck is living or will be moving and then being in position to get a shot, that's really exciting," Ryan explained, adding that he bought his daughter a rifle so she can hunt with him.
But really, this whole system would be more fun if the opposing side were allowed to select the Secret Service names: "Moneybags" and "Pinocchio" facing off against "Lucifer" and "Drunk Uncle" — now, that's evocative.