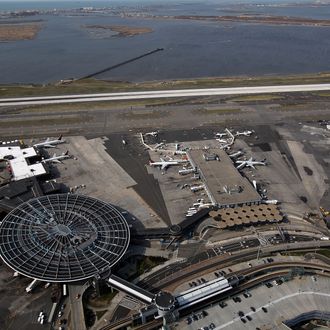 Photo: Spencer Platt/2011 Getty Images
When a plane lands at John F. Kennedy International Airport, the airline must first pick up after the previous slobs and then quickly get the next batch on their way. In between, contracted security workers overseen by the TSA are supposed to inspect the plane for "weapons, explosives and drugs," the New York Times reports, but according to a new formal complaint by some of the inspectors, they aren't afforded the chance to do it properly. And sometimes their metal detectors don't even work.
The Times has an illustrative anecdote:
Jeffrey Uyanik, 20, who started with Global in the summer, said recently that he was told to search a late 200-seat plane in three minutes. A full inspection for a plane that size, he said, takes at least 25 minutes.

"It was ridiculous; there is no way you could perfectly search a plane and make sure it's safe in that amount of time," he said. Only half the plane's seats were checked before Mr. Uyanik was hustled out, he said.
The workers responsible are paid between $8 and $11 an hour, making this whole thing extra reassuring.