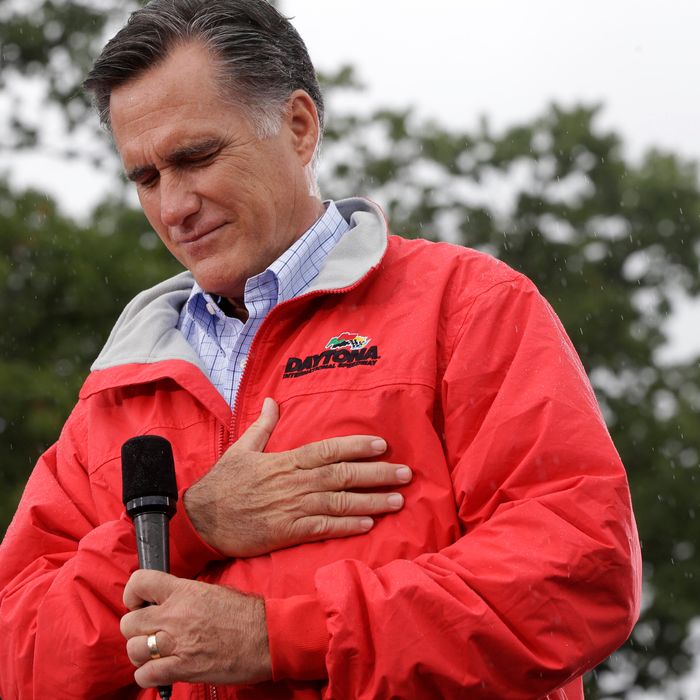 A stake through the heart.
Photo: Charles Dharapak
I've been wrong before, and I'll be wrong again, but I may never have been as wrong as I was when I initially predicted that Mitt Romney's heinous diatribe against 47 percent of America would have little direct impact on the election. It's an absolutely crushing blow. Obviously it doesn't guarantee his defeat — if a secret video surfaces depicting Obama promising to impose Sharia law in his second term, Romney will stand a good chance of coming back — but it destroys his public standing in ways that make a comeback nearly impossible.
Here is Obama's latest ad using Romney's comments:
What's devastating about the ad, aside from the juxtaposition of Romney's words against photos of regular Americans, is something I only noticed the second time I watched it. It's the sound of silverware clinking on china in the background as Romney speaks. That detail contrasts the atmosphere Romney inhabits with the one in which most Americans live. You can tell, even though you're not seeing this, that the remarks are being made to people enjoying a formal dinner.
The damage of the remarks is twofold. Obviously, it deeply reinforces the worst stereotypes voters have of Romney. Indeed, the fact that he is currently running ads trying to make the case that he does care about all of America testifies to the grim position in which Romney finds himself. If you're trying to clear the threshold of "does this candidate hate me" six weeks before the election, you're probably not on the verge of closing the sale.
Worse still, the comments destroy Romney's fundamental credibility. Here America sees what he says behind closed doors. Nothing he can say in public can possibly overcome the damage of these comments, because voters will quite correctly assume that he is telling them what they want to hear. George W. Bush's campaign figured out how to do this to both Al Gore and John Kerry — by painting them as liars, Bush destroyed them as a message delivery platform. Romney has, essentially, done it to himself.
The size of the political damage Romney has incurred is beside the point. He was trailing narrowly, but in a polarized electorate with a tiny number of undecided voters. Not only has he turned some of those undecided voters against him, but he's blown up his bridge to reach them.
My initial instinct, that Romney would escape, arose in part from my general belief that what is and what ought to be are not usually the same thing. Candidates routinely get tripped up by trivial mistakes, and escape unscathed from monstrous acts. Life isn't fair. But if the 47 percent comments do finish Romney off, as now appears likely, it will be eminently fair.
It will be fair because Romney has spent the last five years refashioning himself in the image of his party, discarding his most decent elements along the way, only to be caught in the end speaking bluntly. I've argued that the comments reflect his true beliefs now, but it scarcely matters. America has now seen Mitt Romney talking about us (or 47 percent of us, which offends many more of us) behind our backs.
And then, finally, there is a poetic justice in the substance of Romney's self-immolation. This is not a random gaffe, a joke gone bad, or even a terrible brain freeze. It is Romney exposed for espousing a worldview that is at the heart of his party's mania. The idea he summed up at that fund-raiser was a combination of right-wing fever dreams I've been analyzing since Obama took office — the Ayn Randism, the fact-free class warfare, the frantic rage at a changing America. The Republican Party is going down because its candidate was seen advocating exactly the beliefs that make the party so dangerous and repellant.