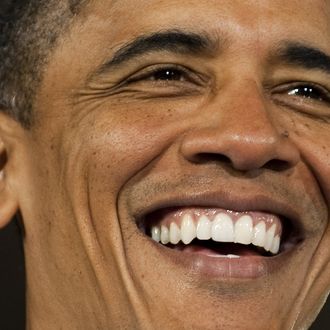 Photo: JIM WATSON/2011 AFP
It is frequently noted that despite (or, perhaps, because of) his position as the first black president of the United States, Barack Obama almost never discusses the subject of race. (Notable exceptions include his lauded March 2008 speech on the issue and his reaction to the death of Trayvon Martin.) Last month, in an interview with Black Enterprise magazine, he used a now somewhat familiar line to distance himself from the topic: "I'm not the president of black America." So, it was interesting to see him opening up about growing up black in America in a just-released Parade magazine interview:
I'm sure it makes me more determined in assuring that everybody's getting a fair shot — in the same way that being a father of two daughters makes me want to make sure that every woman is getting equal pay for equal work, 'cause I don't want my daughters treated differently than somebody else's sons. By virtue of being African-American, I'm attuned to how throughout this country's ­history there have been times when folks have been locked out of opportunity, and because of the hard work of people of all races, slowly those doors opened to more and more people. Equal opportunity doesn't just happen on its own; it happens because we're vigilant about it.
The timing and theme of the remarks isn't arbitrary: The GOP spent all of last week attempting to establish itself as the party of "opportunity" while maintaining a strategy of often not-so-subtle race-baiting. With the DNC kicking off tomorrow, we wouldn't be surprised to hear more about this in the coming days.