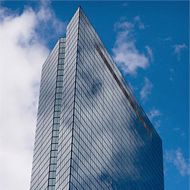 Bain Capital headquarters.
The private equity industry's image has taken a beating this election season, what with Rick Perry's "vulture capitalist" remarks and a pro-Obama super PAC's relentless (and sometimes baseless) assault on Mitt Romney's finance career. Now, a front page story in today's New York Times reports that New York Attorney General Eric Schneiderman issued a round of subpoenas to five private equity firms back in July. He's investigating a rather common practice in the industry known as the "management fee waiver," whereby fees (which would normally be counted as income, taxable up to 35 percent) are converted instead into investments (later taxable at the lower 15 percent capital gains rate). While it's not exactly illegal, there has been a growing movement away from the practice, with leading firms such as the Carlyle and Blackstone groups disavowing any use of it.
But several other big firms (including KKR, and Apollo Global Management) still seem pretty keen on it — and none more so than Bain Capital, the private equity outfit founded by Romney in 1984. In fact, it was a cache of internal Bain Capital documents — illustrating how Bain funds converted $1 billion in fees into investments, saving about $220 million in tax liabilities — that first prompted Schneiderman to look into the process, the Times discovered. The documents also showed that Romney continues to receive profits from several funds implicated in this little tax switcheroo, which is why a lawyer for the recently crowned Republican presidential nominee released the following statement:
Investing fee income is a common, accepted and totally legal practice. However, Governor Romney's retirement agreement did not give the blind trust or him the right to do this, and I can confirm that neither he nor the trust has ever done this, whether before or after he retired from Bain Capital.
Given the now-politically charged nature of anything related to Bain Capital, several private equity executives (anonymously) questioned Schneiderman's motive in handing out the subpoenas. He is, after all, a Democrat, and was tapped by President Obama earlier this year to lead his new Unit on Mortgage Origination and Securitization Abuses. One thing is certain, however: a big story about rich bankers avoiding taxes in order to make themselves a little richer is not the kind of story Romney needs floating around right now.