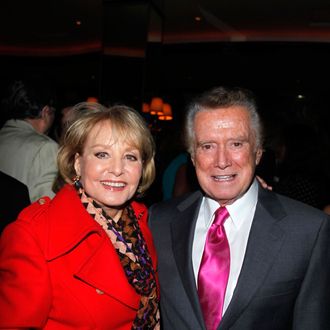 Regis Philbin and Barbara Walters: not members of the 47 percent.
Photo: Jimi Celeste/PatrickMcMullan.com
Regis Philbin isn't keeping very close tabs on his former show. The TV legend told us last night at a Monkey Bar cocktail party for Penny Marshall's new memoir that not only had he not watched Romney's recent interview on Live! With Kelly and Michael, he didn't even know it had taken place. ("They had him on the show? That's great!")
The 80-year-old, who just landed a once-a-month guest role on The Rachael Ray Show, does seem to be paying more attention to the presidential race. When we asked him about Romney's now infamous "47 percent" video, Philbin jumped to the GOP nominee's defense. "I think he is being treated unfairly," Philbin told us, in all sincerity. "Mitt was just expressing himself, and all of his remarks are being taken out of context." If Philbin is looking for a more regular gig, maybe the Romney campaign could use a hand in the press shop.