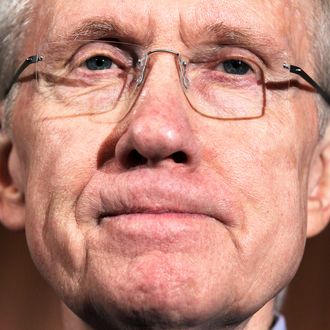 Harry Reid.
Photo: Alex Wong/2011 Getty Images
When we last checked in with Harry Reid, he was complaining that Mitt Romney still hadn't released more than two years of tax returns, despite the fact that other tax information released last week disproves Reid's claim that the candidate didn't pay income taxes for an entire decade. Reid has yet to acknowledge that he was wrong, but he's moving on to another outrageous attack. The Salt Lake Tribune reports that in a conference call to reporters, Reid said he agrees with a fellow Mormon who said recently that Romney has "sullied" their faith. "He's coming to a state where there are a lot of members of the LDS Church," said Reid ahead of Romney's campaign stop in Nevada. "They understand that he is not the face of Mormonism."
Reid was referring to a Huffington Post opinion piece written by Gregory A. Prince, co-author of David O. McKay and the Rise of Modern Mormonism, in response to Romney's "47 percent" remarks. Prince concluded:
Judge Mitt Romney as you will, and vote for or against him as you will; but do not judge Mormonism on the basis of the Mitt Romney that was unveiled to the public this week. He is not the face of Mormonism.
"He said that Romney has sullied the religion that he, Prince and Romney share," Reid said. "And he's so disappointed that in his words, 'It's a good religion and he's hiding from it.'"
As evidenced by the recent LDS Democrats meeting, not all Mormons are voting for Romney. However, as the first Mormon presidential nominee, he is currently the most well-known member of their faith. At the very least, he represents a face of Mormonism, even if Reid doesn't agree with him politically.