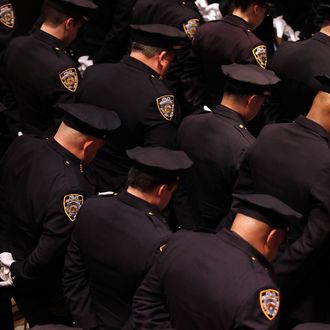 Photo: Spencer Platt/Getty Images
The family of 20-year-old Reynaldo Cuevas, who was killed by an NYPD officer during a bodega robbery on Friday, is calling on the Bronx district attorney to investigate what they believe was an unnecessary death. Cuevas was shot while attempting to escape a hold-up in the store where he worked, but collided outside with an officer reporting to the scene. According to the official police, "they became entangled," and "it was an accidental discharge." Security footage is inconclusive, but the family believes otherwise.
"The tragedy here, of course, is that Mr. Cuevas was shot," said Police Commissioner Ray Kelly on Friday, "but I see nothing wrong with the procedure." Video of the fatal encounter does not appear to show when exactly the officer's gun went off:
However, Cuevas's family said on Sunday that they suspect the shot was fired after the run-in, when the officer was kneeling over the man. "We believe that he was murdered," said Fernando Mateo, a spokesperson for the family. Cuevas "brushed the officer, fell to the ground, and we believe he was shot when he was on the ground," he said. While Mateo spoke to reporters yesterday, Cuevas's mother fainted, the Times reports.
The Bronx D.A.'s office promised "there is going to be a thorough investigation and that we're taking this matter extremely seriously." A lawyer for the family said, "[The D.A. is] not committed to a grand jury, but he's committed to an independent investigation." But he wondered aloud, "How do you accidentally pull a trigger?"