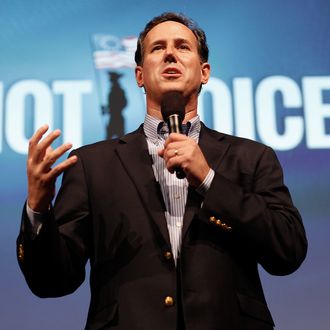 No smart friends to be had.
Photo: Tom Pennington/2012 Getty Images
As usual, this week's Values Voter Summit provided a special venue for social conservatives to get extra outrageous with their social conservatism: Family Research Council president Tony Perkins called counseling for bullied LGBT youth "disgusting," while former terrorist-turned-evangelist Kamal Saleem accused Secretary of State Hillary Clinton of a shadow campaign to shut down  the United States' churches and synagogues. (It's worth noting that Paul Ryan and House Majority Leader Eric Cantor were present for the festivities.) And finally, former Senator Rick Santorum, who, according to Buzzfeed, admitted that social conservatives "will never have the media on our side, ever, in this country." He added, "We will never have the elite, smart people on our side." We know that no one in politics ever wants to be too closely aligned with the word "elite," but disavowing the entire "smart person" segment of society seems like it could lead to trouble down the line.