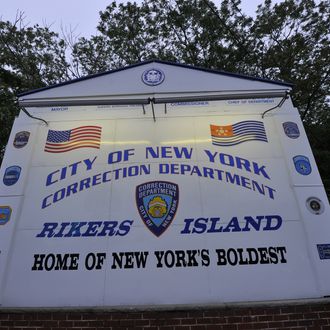 Photo: JEWEL SAMAD/2011 AFP
A new lawsuit filed by Rikers Island correction officer Tomara Bryan charges that everyone working at the jail has intimate relations and only the women suffer for it, DNAinfo reports. According to her suit, there are "rampant inappropriate sexual acts taking place on and off the job between and among supervisory and non-supervisory members of the DOC," but "[female] DOC captains and/or other female supervisory employees do not treat male DOC employees who engage in consensual sexual relationships with female DOC employees in the same negative manner as they treat the females engaged in such relationships." Bryan knows from personal experience, she claims.
Bryan's two-year relationship with warden Emmanuel Bailey, who was married at the time, resulted in verbal and physical abuse both at work (from supervisors) and at home (from Bailey), she alleges. Charged with assaulting, harassing, and menacing Bryan, the warden pleaded guilty yesterday to disorderly conduct.
But Bailey, who retired from the DOC after his arrest, brushes off the contention that Rikers is a more amorous place to work than most. "People find their wives there," he insists. "Where do you find love at sometimes? Sometimes at the workplace." He also denies the charges and says he took a deal to avoid a trial. "She was doing this because I broke up with her," he claims. "Ask the neighbors," he adds creepily. "They had no complaints, except for the lovemaking." Not smooth.