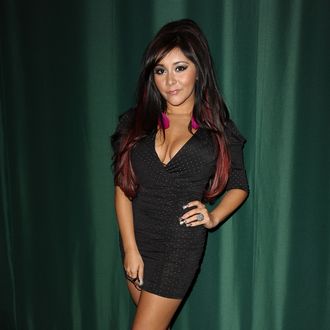 Snooki.
Photo: Jason LaVeris/2011 Jason LaVeris
In a taping for Live With Kelly and Michael today set to air next week, Mitt Romney revealed that he is keeping close tabs on the weight loss of Jersey Shore star Snooki. "I'm kind of a Snooki fan," Romney revealed. "Look how tiny's she's gotten. She's lost weight. She's energetic. Just her spark-plug personality is kind of fun."
To sum up the ever-widening mutual flirt fest between Snooki and various GOP nominees for president, past and present: Snooki thinks George W. Bush is "pretty cute" and finds John McCain "really cute," McCain said that Snooki was "too good looking to go to jail," and Romney is impressed with how thin Snooki has gotten. Bob Dole, oddly, has yet to weigh in.