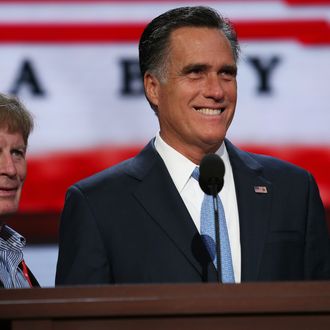 Mitt Romney and adviser Stuart Stevens.
Photo: Chip Somodevilla/2012 Getty Images
According to a report by Politico, Mitt Romney isn't the only person responsible for his campaign's recent stumbling. In off-the-record interviews, members of the Romney camp paint a picture of a campaign that's surprisingly disorganized for an organization run by a former Bain man. At the center is Stuart Stevens, who's been serving as Romney's chief strategist, ad maker, and speechwriter. Sources say that while Hurricane Isaac didn't help, Stevens deserves much of the blame for the Republicans' lackluster convention. In addition to deciding Clint Eastwood's remarks didn't need to be vetted by the campaign, Stevens scrapped two completed versions of Romney's acceptance speech in the week before he was set to take the stage, forcing Stevens and Romney to cobble together the final version with little time to rehearse.

We only get a tiny glimpse at original speech, which was penned by veteran Republican speechwriter Peter Wehner. It included the line, "The incumbent president is trying to lower the expectations of our nation to the sorry level of his own achievement. He only wins if you settle." Eight days before the convention, Stevens decided to start over and asked the speechwriters who were finishing up Paul Ryan's remarks to write an entirely new draft. Stevens was also unsatisfied with their work, and he and Romney wrote a new speech themselves. In those frantic final days a reference to Afghanistan that appeared in earlier drafts was dropped, along with plans to stream Romney's remarks before an American Legion convention in Indiana to the RNC in Tampa.
It's telling that sources in the Romney camp are frustrated enough with recent events on the campaign trail to vent to Politico about Stevens, who's described as an impulsive "tortured artist" type who's unpopular with conservatives. Yet, a Romney official says that despite the grumbling, it's unlikely that Stevens will be booted from the campaign:
Mitt is a sticker — he stays with you. He had a reputation at Bain for sticking with people. They made a bad investment, he hung with them … None of this is going to be fixed. This is the organization, and this is who Mitt is betting on to win. There aren't going to be further changes.
Despite the unrest in the Romney campaign, William Galston's latest column for the New Republic argues that he still has one shot at closing the gap between himself and President Obama. Noting that in the 2004 election John Kerry got a five-point bump from the first presidential debate while support for Bush only increased by 1.7 points before election day (leading him to win by only 2.4 points), Galston says:

History could repeat itself. To judge from the amount of time Romney is spending preparing for the debate rather than campaigning, he understands that it represents his best, and maybe last, chance to reverse the impression that his ill-judged convention and lackluster campaign have created. If he were to repeat the gains that Kerry made, he would turn a significant deficit back into a dead heat.
That is, unless someone in Romney's campaign decides to dump Obama stand-in Rob Portman during the final debate prep sessions and tells Romney to stop attacking the president on the economy.