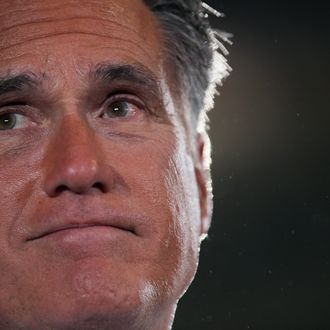 Not cool, guys. (Unless we're doing the editing.)
Photo: Joe Raedle/2012 Getty Images
After saying his views on the 47 percent were not "elegantly stated" but accurate, then pretending that he was merely saying he doesn't expect to get 60 to 70 percent of the vote, Mitt Romney tried out a new defense in the ongoing leaked video controversy. On Wednesday afternoon, his campaign sent out an e-mail titled "The Obama Campaign Leveled False Attacks Against Mitt Romney Based On A Debunked And Selectively Edited Video." (Ann Romney previewed this argument on Tuesday when she suggested the tape was "misinterpreted" or "taken out of context.") It's an odd claim to make in this case, considering that Mother Jones posted the full 49-minute video along with a transcript. Now in an ironic turn, NBC News is reporting that the video Republicans seemingly circulated in response, which features Obama discussing "redistribution," was edited to make his remarks seem more inflammatory.
The Romney campaign e-mail stated, "Politico Reported That The Mother Jones Video Was Selectively Edited To Give A False Impression About Mitt Romney's Views On The Middle East Peace Process," according to Mother Jones. The site initially posted an edited video that showed Romney saying he would "kick the ball down the field" rather than seeking a two-state solution, which contradicts remarks he's made in public. The Politico story points out that many news outlets are reporting that Romney believes there's no possibility for peace in the Middle East, though "technically" that isn't true. In the full video he goes on to say that if America waits things out, "Palestinians will some day reach the point where they want peace more than we're trying to force peace on them." Journalist David Corn, who obtained the hidden camera footage, told Politico that he didn't include the rest of Romney's remarks on Palestinians because he's made similar comments in public and the clip was supposed to highlight the newsworthy bits before the release of the full video.
Politico's Dylan Byers responded to the Romney campaign's use of his work, saying "there is nothing in my report that 'debunks' the video." A Romney campaign spokesperson then told him that they only object to the clip about Middle East peace negotiations, not the full fund-raiser video — though that isn't clear from the e-mail's reference to a "debunked Mother Jones tape."
A few hours later Republicans were facing questions about their own editing decisions. After the release of the fund-raiser footage, Drudge posted audio of then–State Senator Obama saying "I actually believe in redistribution" at a 1998 conference, which Romney and Ryan quickly started talking up. NBC News has unearthed video of the event, which shows that the widely circulated clip cuts out after "everybody's got a shot," omitting Obama's praise for "competition" and the "marketplace." Obama said:
I think the trick is figuring out how do we structure government systems that pool resources and hence facilitate some redistribution because I actually believe in redistribution, at least at a certain level to make sure that everybody's got a shot. How do we pool resources at the same time as we decentralize delivery systems in ways that both foster competition, can work in the marketplace, and can foster innovation at the local level and can be tailored to particular communities.
Still, the revelation doesn't really change much, since Obama's meaning isn't the point. As Jonathan Chait noted, Obama wasn't even saying anything outrageous in the clip released by Drudge, and seeing the quote in context doesn't change the fact that fourteen years ago Obama uttered the sinister-sounding word "redistribution."