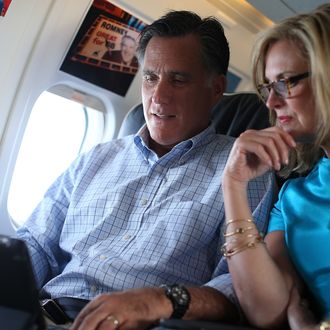 "Ugh, more convention coverage — let's see what's on ESPN.com."
Photo: Justin Sullivan/2012 Getty Images
Although Mitt Romney promised to lay low during the Democratic National Convention, on Wednesday he snuck in a bit of campaigning, stopping in New Hampshire to meet with veterans and explain why Afghanistan wasn't mentioned in his convention speech. Yet Romney remains committed to the tradition of stepping back while the other candidate makes his case to the nation — so much so that he didn't even watch Obama's convention on TV.
The Associated Press reports that while en route to his estate in New Hampshire from an adviser's home in Vermont, Romney stopped to visit veterans working on his campaign. During the event a reporter asked why Romney failed to mention Afghanistan in his speech last week, making him the first Republican nominee since 1952 not to reference war during his convention address. (Romney said, "America has freed other nations from dictators," and mentioned the killing of Osama bin Laden, but didn't discuss the war directly.)
Romney's defense: He'd already covered the topic while speaking at an American Legion national convention in Indianapolis the night before. "The president was also invited to the American Legion and he was too busy to go. It was during my convention," Romney said. "I went to the American Legion, described my views with regards to our military, my commitment to our military, my commitment to our men and women in uniform." That doesn't quite explain why he didn't bring up the war again last Thursday, even just to clear up Clint Eastwood's mischaracterization of his Afghanistan policy.
President Obama tried to capitalize on the omission in his address, characterizing Romney and Ryan as "new to foreign policy." He continued:
You don't call Russia our number one enemy, not Al Qaeda, Russia, unless you're still stuck in a Cold War mind warp. You might not be ready for diplomacy with Beijing if you can't visit the Olympics without insulting our closest ally. My opponent — my opponent said it was "tragic" to end the war in Iraq, and he won't tell us how he'll end the war in Afghanistan. Well I have, and I will.
Romney probably won't hear the president's foreign policy attacks until he wakes up on Friday. He said he hadn't watched the Democrats' convention this week and didn't intend to start on Thursday. "If it's another series of new promises that he's not going to keep, I have no interest in seeing him because I saw the promises last time," he explained. Still, Romney might want to watch the speech on YouTube. Catching up on DVRed episodes of Modern Family is definitely more fun, but the convention will probably be more relevant to his campaign strategy.