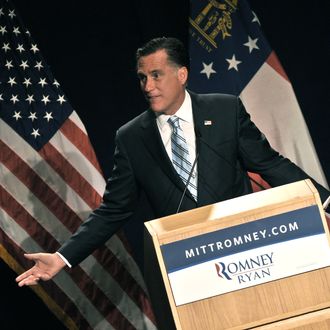 "I don't know what happened either."
While the Romney campaign and the Republican National Committee out-raised President Obama and the Democratic National Committee for a three-month streak starting in May, Democrats managed to turn things around in August. According to campaign finance reports released on Thursday, the Romney campaign kicked off September with $50 million cash on hand and a $20 million loan to repay, compared to President Obama's $87.7 million cash on hand. The Washington Post reports that Romney raised $67 million in August but spent about the same amount on advertising and building his  campaign organization. While Romney isn't exactly strapped for cash, the numbers aren't encouraging.
The news from the main pro-Romney super-PAC was even worse. Restore Our Future spent $21.2 million in August, but it ended the month with only $6.3 million in cash. According to Reuters, the pro-Obama Priorities USA super-PAC ended the month with $4.8 million in the bank, but August was its best fund-raising month yet, with $10.1 million raised.
Meanwhile, over at the New Republic, Alec MacGillis notices that Crossroads GPS, the Rove-backed super PAC, has yet to ramp up its spending on Romney's behalf — and may, in fact, end up deciding that its money is better spent trying to win the Senate and/or save the House.
Earlier this week, it was revealed that impressive fund-raising numbers released by the Romney campaign "obscured the fact that most of the money Mr. Romney was raising was reserved for those other political entities like the Republican National Committee," which "is allowed to spend only about $22 million on advertising that is coordinated with Mr. Romney," the Times reported. All in all, Romney may be thinking twice about closing out the month of August by handing out $200,000 in bonuses to top employees.